Custom fields added to bookings and improved PDF and Excel export options
We've managed to squeeze in another feature update to our scheduling application before the calendar ticks over to 2016. The new update extends custom fields (previously only available in the project module), to bookings. Custom fields are a great way to track metadata specific to your organisation.
For example, you could create a "Booking Type" custom field menu, with predefined types of bookings like "Color Grading", "VFX", "Sound Editing". This "custom" menu appears in the booking sidebar along-side the standard booking fields and will load the correct values for each booking.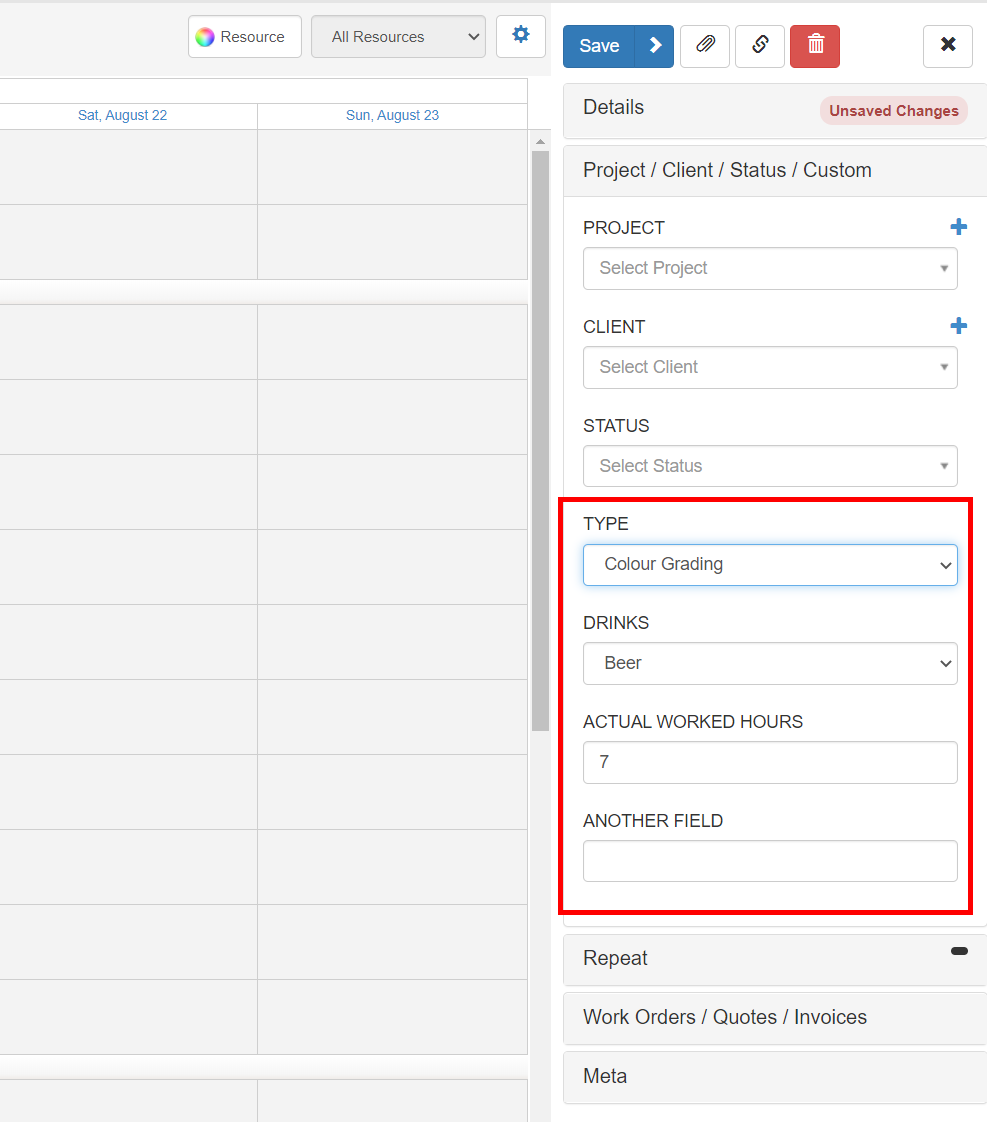 More Schedule Excel Export Improvements
The new custom field values are also included in our improved excel spreadsheet exports.
Choosing to export the schedule to excel previously only allowed you to export the bookings shown for the current month shown in the scheduler. Our new export options allow you to choose the current month, last 30 days, last 90 days, all bookings ever created or only bookings within a custom date range.
You can also limit the bookings exported to a certain project as well as choose to export the bookings to your favourite date format. Theres also a handy "Total Hours" formula that adds up the total number of hours of your bookings, thrown in just because we can!
Scheduler to PDF
We've also improved the PDF exports from the scheduler, boosting the resolution of the generated PDF's to be retina display friendly.
As with most of our updates, we've also fixed several bugs and made some performance improvements by allowing more files to be served from CDN's (content delivery networks) which are geographically closer to customers near major cities around the world.
Some words from our CEO
Looking back at 2015 I'm impressed at all that what we've managed to achieve. In February we rolled out FoxOMS 2.0, a complete rewrite and major improvement of our resource scheduling software. Over the course of the year we released over 50 updates with many feature requests and bug fixes. We've received great feedback from our existing customers and have also welcomed many new and valued customers to our project planning and scheduling software.

We've got some big plans for 2016 and I can't wait to show you some of the exciting new features and services we'll be releasing.

Happy New Year!

Tim Mohr, CEO